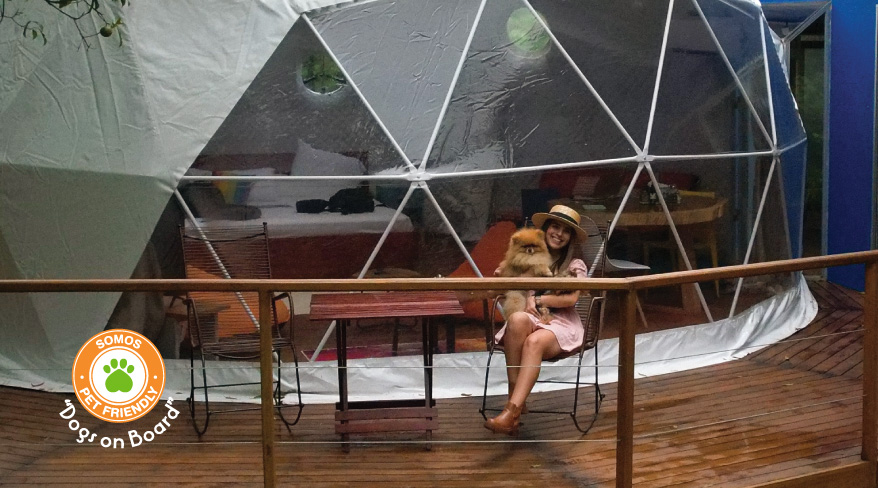 "Dogs on Board"
Special offer for pet lovers
Bitzu Dome rewards pets with the "Dogs on Board" offer to pamper these special members of the family.
In today´s society, where pets have a very important place in our families, businesses make significant efforts to provide their customers with "Pet Friendly" establishments, to attract consumers and provide them with the option of being able to take their pets everywhere.
Bitzu Dome is a glamping-style accommodation, that seeks to attract an important segment of the pet-loving population, making the accommodation Pet Friendly and thus allowing tourists to travel and stay with their dogs, at no additional cost and without any restrictions. The accommodation has towels, shampoo, toys, cookies, food containers, among others, providing convenience for guests when traveling with their pets.
For the months of October and November, Bitzu has decided to go one step further in its Pet Friendly strategy to encourage tourists to travel with their dogs. Through the "Dogs on Board" offer, Bitzu Dome wants to pay tribute to these members of the family by providing a special discount to people booking in October and November.
Glamping is surrounded by lush natural and tourist attractions such as viewpoints, volcanoes, rivers, waterfalls, light-blue ponds, among many others, motivating people to do hiking and physical activity. In addition, it is a fully equipped accommodation with everything you need for a holiday of luxury and comfort.
The accommodation opened in May 2022 with the aim of offering its guests a combination of convenience, comfort, adventure and connection with nature.
Special Offer Details
20% discount to the regular rate of $120 per night for 2 people. Discounted rate is $96 (VAT included).
A requisite to be eligible to the discount is to bring at least one dog to the accommodation.
Applies for reservations between October 15 and November 15, 2022.
The rate does not include breakfast as the accommodation does not have such facilities although there are plenty of restaurants and cafeterias located less than 10 minutes away from the dome.
For tourists who do not have pets, the regular rate will apply, but the 20% discount will be donated to an association for the rescue of street animals.
This offer does not apply to reservations in Airbnb or Booking.
This promotion aims to motivate tourists to travel with their pets and raise awareness so that their masters do not leave them at home when traveling.
About the accommodation
Name: Bitzu Dome / Bijagua Riverside Glamping
Location: Bijagua, Upala. Just 25 minutes from Rio Celeste.
Website: www.bitzudome.com
Reservations to info@bitzudome.com or WhatsApp 8689-0000