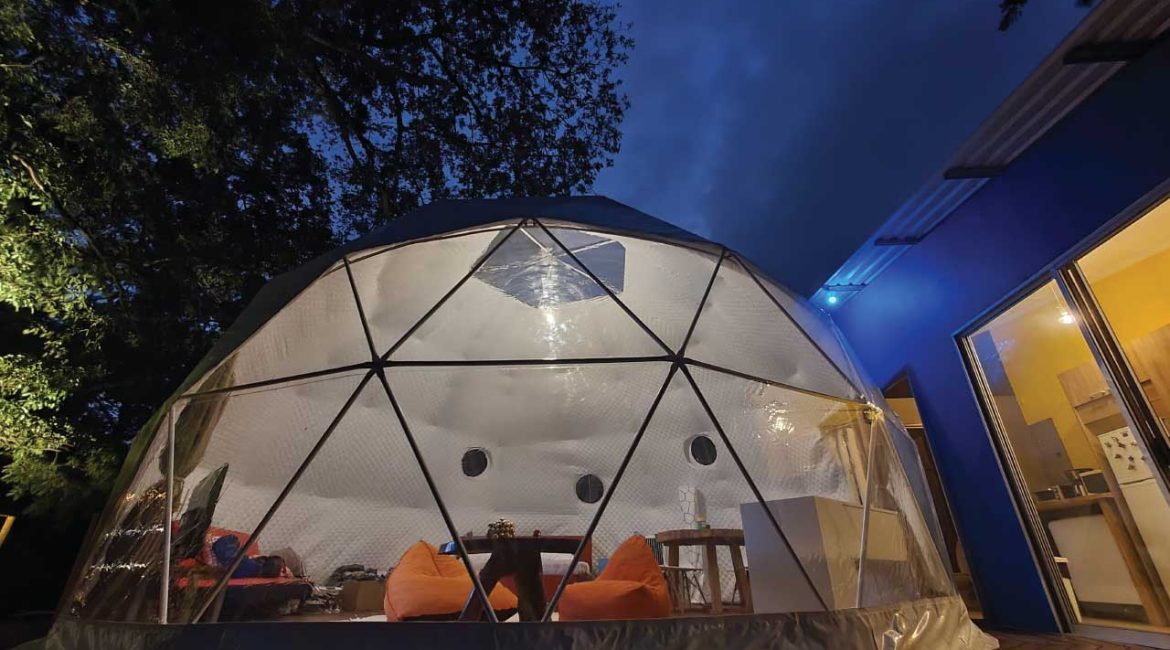 Glamping: A Different Kind of Accommodations, A Memorable Experience
The concept of glamping – a portmanteau of "glamour" and "camping," – describes a style of camping with a host of amenities and services not generally associated with "traditional" camping. Glamping has become popular with 21st-century tourists looking to combine the luxuries and comforts of a hotel with the recreation and adventure of camping.
This concept has become very popular with discerning adventure travelers who are unwilling to sacrifice comfort and luxury. From our fully equipped interior spaces and nature views to outdoor spaces that invite you to enjoy nature and walks through the forest, the glamping experience is somewhat different from traditional lodging models and that is precisely why it's important to understand that glamping lodging differs from conventional lodging, for several reasons.
Glamping destinations offers a wide variety of types, shapes, materials, furniture, and equipment, but all of them share a primary purpose: close contact with nature, in lodging that almost integrates with the outer space. For the purpose of this article, I'll focus on round geodesic style glamping, like the one offered by Bitzu Dome.
After that bit of history, I will tell you about the kind of experience that, from my point of view, you can have at a glamping site.
Views to the outdoors represent one of the main attractions that glamping offers as, in most cases, there are large windows or transparent triangular panels that allow light to enter while promising a spectacular view to the outside. This, combined with a site surrounded by nature, rivers, remarkable views, and the melody of birds and insects, makes for a very relaxing experience.
Another important characteristic of our glamping site is that, despite the fact that they are located in remote places, surrounded by nature, and quite rural, they promise all the necessary comforts for a great experience, including access from any type of vehicle, electricity services, drinking water, telephone, WiFi internet, parking, security, and fully equipped facilities. That is, they have a certain glamor, as their grammatical connotation indicates.
In terms of size, there is a lot of variety, but almost all glamping sites offer cozy, tall spaces. Some are round and comfortable, with outdoor decks and Jacuzzis, and are equipped with furnishings that assure guest comfort.
Glamping is having a very pleasant stay and have a nice experience.
Most of our glamping sites have everything you need for a short or medium stay: You can cook, watch TV, take a refreshing hot-water shower, prepare coffee or tea, rest, do yoga, meditate, and enjoy many of life's other pleasures.
Another interesting fact is that at true glamping sites, there are no strict rules or rigid schemes to follow. On the contrary, these are flexible spaces, where you should be able to do almost everything you do at home, while showing respect and care for the place and the infrastructure. The most important thing is for you to have a pleasant stay and a wonderful experience.
If you love adventure, close contact with nature, and are someone who seeks peace, tranquility, and comfort, you will definitely not forget a glamping stay. This will mark a memorable event in your life story.