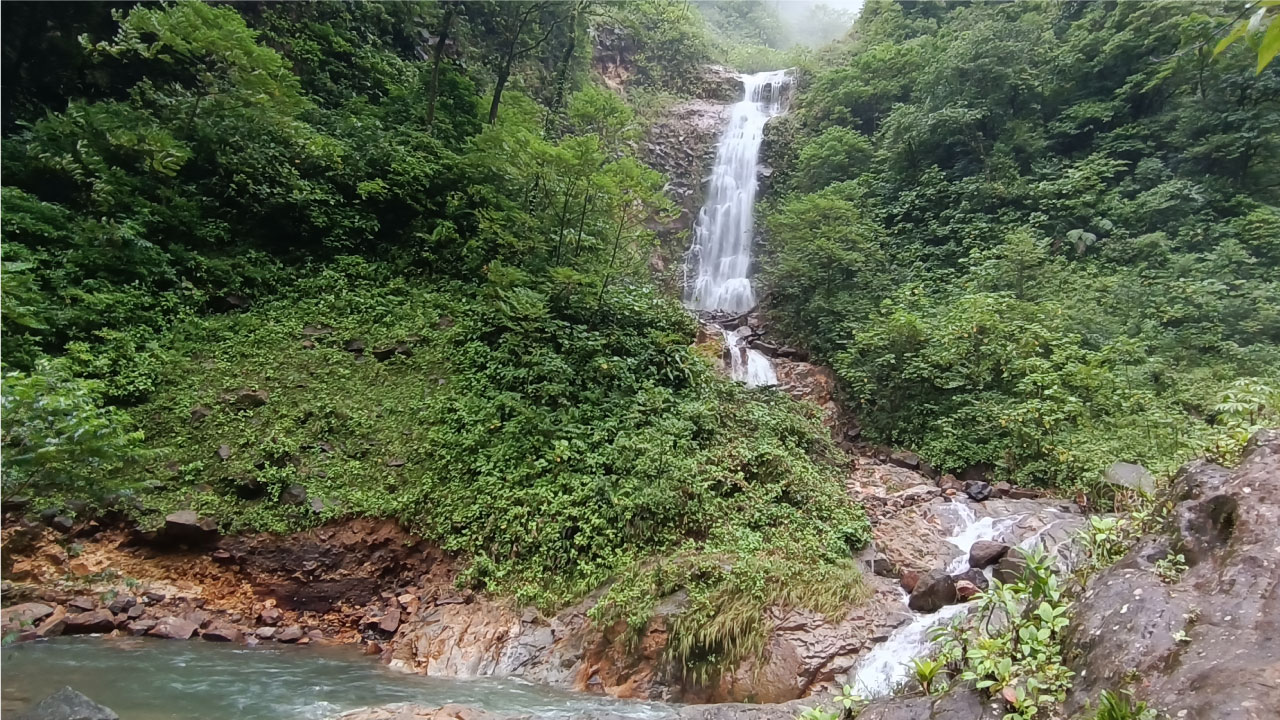 Bijagua River Falls and Tenorio Volcano Viewpoint
Bijagua River Falls and Tenorio Volcano Viewpoint
There are two trails that lead into the Miravalles Volcano National Park, which is 20 minutes from the Tenorio Volcano National Park (Río Celeste) and just 200 meters from Bitzu Dome.
The first trail leads to the Bijagua River Falls. It is 4.7 kilometers long (round trip) and takes approximately 1½ to 2 hours. During the tour, you will be able to see the cloud forest, the transition forest, the Premontane Rainforest, and the banks of the Bijagua River, where you can visit river pools and continue towards the falls. The view of the falls is very beautiful, with inviting crystal clear waters. You can also see jets of water born from the rocky walls, and different types of birds and animals. A perfect place for hiking, taking a dip in the river pools, and enjoying contact with nature (flora and fauna).
This trail is classified as moderate and the best time to visit is between November and April, although it can be visited all year round. It is recommended that you wear hiking shoes, long pants, and a swimsuit—and bring drinks to hydrate, insect repellent, and an extra layer in case of rain.
The second trail leads to the Tenorio Volcano Viewpoint. It is 2.6 kilometers long (round trip), takes approximately 1 hour, and the difficulty level is low/medium. At the end of the tour, you will arrive at the viewpoint providing excellent views of the Tenorio Volcano and the town of Bijagua, as well as the exuberant vegetation that distinguishes the area.
Pick up the trails at the Hotel Cataratas Bijagua Lodge, located in Bijagua de Upala, on the slopes of the Miravalles Volcano National Park. The Lodge has private parking and a restaurant, in case you want to have breakfast or lunch before or after the tour.
Please coordinate meal service at the hotel reception.
Entrance fee
Nationals or Residents: ¢2,000. Non-Residents: USD 7. In both cases, payment must be made in cash at the hotel reception or by mobile SINPE. Reservation is not required for trail use.
Note: Admission to the trails is included free of charge for Bitzu Dome guests.
Hotel Information
Address: Hotel Cataratas Bijagua Lodge
Phone: (506) 8517-0327
Email: info@cataratasbijagua.com
Website: https://www.cataratasbijagua.com
Waze y Google Maps: Cataratas Bijagua Lodge