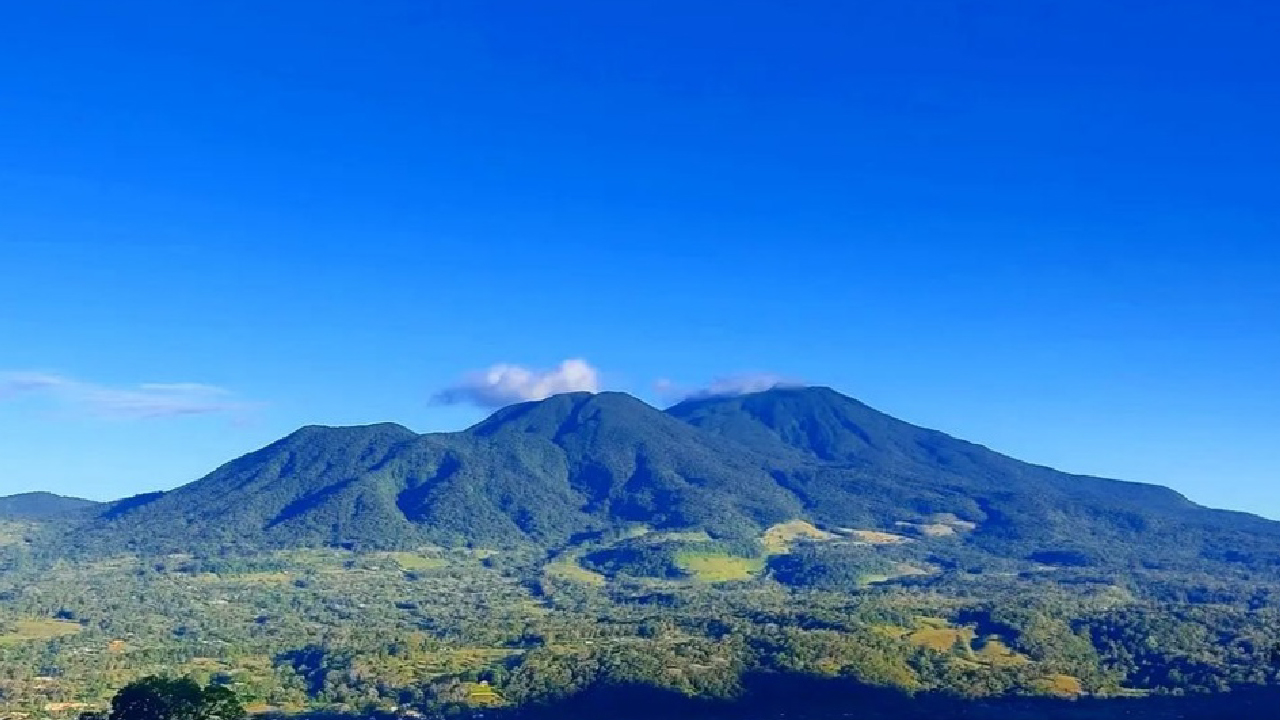 In the town of Bijagua, nestled within the Miravalles Volcano mountain range, is a family eco-tourism and rural tourism project centered on the conservation of flora and fauna with the goal of providing an ideal ecosystem for native tropical rainforest species along with a spectacular view of the Tenorio Volcano.
The project began in April 2022 as a vision by Paulino and Cristina, its owners, who decided to turn their family farm into a tourism project. Although the property initially had banana and coffee plantations, much of it was covered by primary and secondary forest, making it potentially attractive for tourism. With great effort, Paulino and Cristina then created the first trails (which they later expanded), built a hanging bridge, and introduced other improvements to make it easier for tourists to visit.
The project consists of a tour along two kilometers of trails, although there is a shorter, 800-meter tour for visitors who want to go into the forest but have difficulty walking the entire trail. At the start of the tour is a 47-meter-long hanging bridge from which you can see different species of native tropical forest flora and a small brook that runs through the forest.
The full tour takes two hours, and the short tour takes approximately one-and-a-half hours. During the tour you'll have an opportunity to see a wide variety of trees and plants characteristic of the Bijagua area, such as spanish cedar, rubber, and guarumo (cecropia) trees, among other quite distinctive flowering and fruit-bearing plant species, which the guide will point out since they are extremely indicative of and endemic to the area. One segment of the walk also goes through the old coffee and banana plantations, which are still maintained so tourists can get a taste of the property's history when it was dedicated to the cultivation of these crops.
All along the walk you can see many of the bird species that inhabit the forests of this region, such as the rainbow-billed toucan, chestnut-mandibled toucan, motmot, oropendola, cuckoo, black guan, and many other tropical forest species. During my visit, I had an opportunity to see a group of chestnut-mandibled toucans and trogons just a few meters away, an extremely close encounter with these exotic birds.
There is also a strong possibility of seeing the sloths that usually inhabit this property; the guide knows where to find this distinctive creature so characteristic of Bijagua. Amphibeans are also part of what you can almost surely see during the walk. Masked and red-eyed tree frogs and blue jean poison dart frogs are also very common in the region and can be found in their natural habitat.
Halfway along the walk, at the property's highest point, is a place worth visiting: a spectacular lookout point with views of the Tenorio Volcano and the town of Bijagua. There you can rest, hydrate, and enjoy the breathtaking view offered by this beautiful place. There is also a covered lookout point with a 280-degree panoramic view that will give you a feel of the altitude of this forested area and let you breathe in fresh air before continuing on the return walk.
What you should take
Closed shoes for going on the tour.
Hydrating drink.
Mosquito repellent.
Comfortable walking clothes, preferably long pants.
Waterproof cape (in case of rain).
Entry Cost
Costa Ricans:
Children 6-12 years old: ₡1.000 colones. No charge for children under 6.
Adults: ₡2.500 colones.
Foreign Visitors
Long tour: US $20 (includes guide and refreshments with one drink and one snack).
Short tour: US $15 (includes guide and refreshments with one drink and one snack).
Night tour: US $40.
Hours
Monday through Friday: 7:00 a.m. to 5:00 p.m.
Saturdays and Sundays: 8:00 a.m. to 5:00 p.m.
Miravalles Mountain View Information
Address: 2.3 kilometers west of the entrance to the Altamira settlement, Bijagua, Upala
Phone / WhatsApp: (506) 8427-0935 / (506) 8445-0597
Email: miravallesmontainview@gmail.com
Google Maps or Waze: Miravalles Mountain View
Instagram: @miravalles.mountain
Facebook: @mmvcr